This site is dedicated to providing genealogical information on residents of Doniphan County, Kansas, and its surrounding areas. On this site, you will find obituaries, birth, wedding, and engagement announcements, family tree information, and other historical documentation. We have just begun the page and are continuously adding information, so please check back for new additions. We have quite a large collection of documents that we plan to digitize. In the meantime, you are welcome to come to the Troy Library at 105 N. Main in Troy, KS to look at our physical collection. If you're planning a visit from out of town, please call or email prior to your visit and we can do a basic search of our physical collection for you. Contact the Troy Library at library@librarydistrict1.org or at 785-985-2597. If you are unable to visit the library and you need a more detailed search, we can also refer you to a local genealogist for more in-depth help. You do not need a user account to search this site. Please search to the box in the right.
If you have any questions or comments about the information on this site, please contact us. We look forward to hearing from you.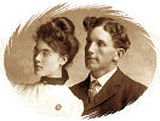 Which branch are you from?